What an amazing season we had at The Crystal Cottage this season. A heartfelt thank you to everyone who filled the cottage this year with their energy, whether through presenting their gifts and talents to our community or to all those who shared in a class, workshop, or healing event. Each of you were integral to the immense blessings of this season.
It's been a delight to share with you the healing qualities of Crystals and Gemstones, Sound Healing, Chakras, Reiki, Astrology, Healthy Eating, and so much more. Here is just a sampling of what we were able to bring to you this season.
I so appreciate the many who offered their space to me to as I reached beyond the walls of The Crystal Cottage.

When I look back at these past 6 months I'm most honored by the opportunity to be the "opening act" for the Dupang Gomang Monks. Eric Paul Levy and I lead a Sound Healing Meditation at Saint Paul's Church in Key West in January. My experience with the monks throughout the week was highlight of my year. Key West was so very blessed to have them here as they
built their Sand Mandala of Compassion. I'm so grateful to be part of the Buddhist Community, Key West Tara Mandala that sponsored them.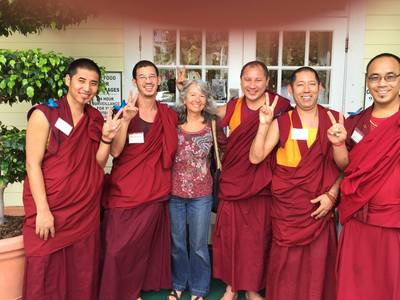 I look forward to returning next autumn. The Crystal Cottage will continue to provide a space for healing artists to share their energy. I will continue to provide the community with quality, hand selected, high vibrational crystals & stones and gemstone jewelry. There will be more opportunities for crystal consultations and readings, healing sessions, sound healing and special events.
The highlight of next season will be an accumulation of my 28 years experience working with the mineral kingdom into a 3 day 20 hour Crystal Intensive. I will distill my knowledge and experience into an accessible and practical methodology for using crystals in everyday life for healing and spiritual evolution. Please email me: solchakra@aol.com for more information on how you can work with me to broaden your knowledge with crystals.
Look to next season's newsletters to include practical tips on how to use crystals and stones in everyday life. Please email, Solchakra@aol.com if you would like to be on our newsletter list.
Be sure to connect with us on FB
Sending out to each of you, waves of Crystal Blessings!
Namaste,
Debra
305-872-4750